Please join us for the Arizona Grantmakers Forum 2016 Annual Meeting as we continue The Values Series, a sequence of programs and workshops designed to inform and inspire you to approach your work in new ways. Our values—Integrity, Collaboration, Community Stewardship, Diversity & Inclusion and Transformation—are central to our educational programming as we pursue our mission to empower our members to transform Arizona through leadership and meaningful philanthropy.
With probes into major foundations making national headlines this year, the value of Integrity is more essential than ever. At this meeting, Phil Buchanan, president of The Center for Effective Philanthropy, will draw on findings from CEP's recent research report, "Sharing What Matters: Foundation Transparency." Foundation leaders, board members and staff will better understand the link between transparency and funder effectiveness. The program also will include an interactive component that will help philanthropic leaders reflect on what information to communicate and how to do so most effectively.
We hope you will join us for this enlightening session, as well as participate in our annual business meeting where we will reflect on all we have achieved together this year, announce our 2017 board of directors and preview coming attractions for AGF members in the year ahead. 
About the Presenter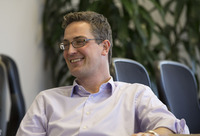 Phil Buchanan, president of the Center for Effective Philanthropy, is a passionate advocate for the importance of philanthropy and the nonprofit sector and deeply committed to the cause of helping foundations to maximize their impact. Hired in 2001 as the organization's first chief executive, Phil has led the growth of CEP into the leading provider of data and insight on foundation effectiveness. CEP has been widely credited with bringing the voice of grantees and other stakeholders into the foundation boardroom and with contributing to an increased emphasis on clear goals, coherent strategies, disciplined implementation and relevant performance indicators as the necessary ingredients to maximize foundation effectiveness and impact.
Phil is co-author of many CEP research reports, a columnist for The Chronicle of Philanthropy and a frequent blogger for the CEP Blog. Phil is also co-founder of YouthTruth, an initiative of CEP's designed to harness student perceptions to help educators accelerate improvements in their K–12 schools and classrooms. He holds an MBA from Harvard University and received his undergraduate degree in government from Wesleyan University. He has been recognized five times as among the Nonprofit Times "power and influence top 50" –  most recently in 2016. Phil was born in Toronto, grew up in Oregon and currently lives in Lexington, Massachusetts with his wife and two daughters.
Registration is required. This program is only open to AGF members.
Special thanks to our 2016 annual meeting sponsor, Republic Media.