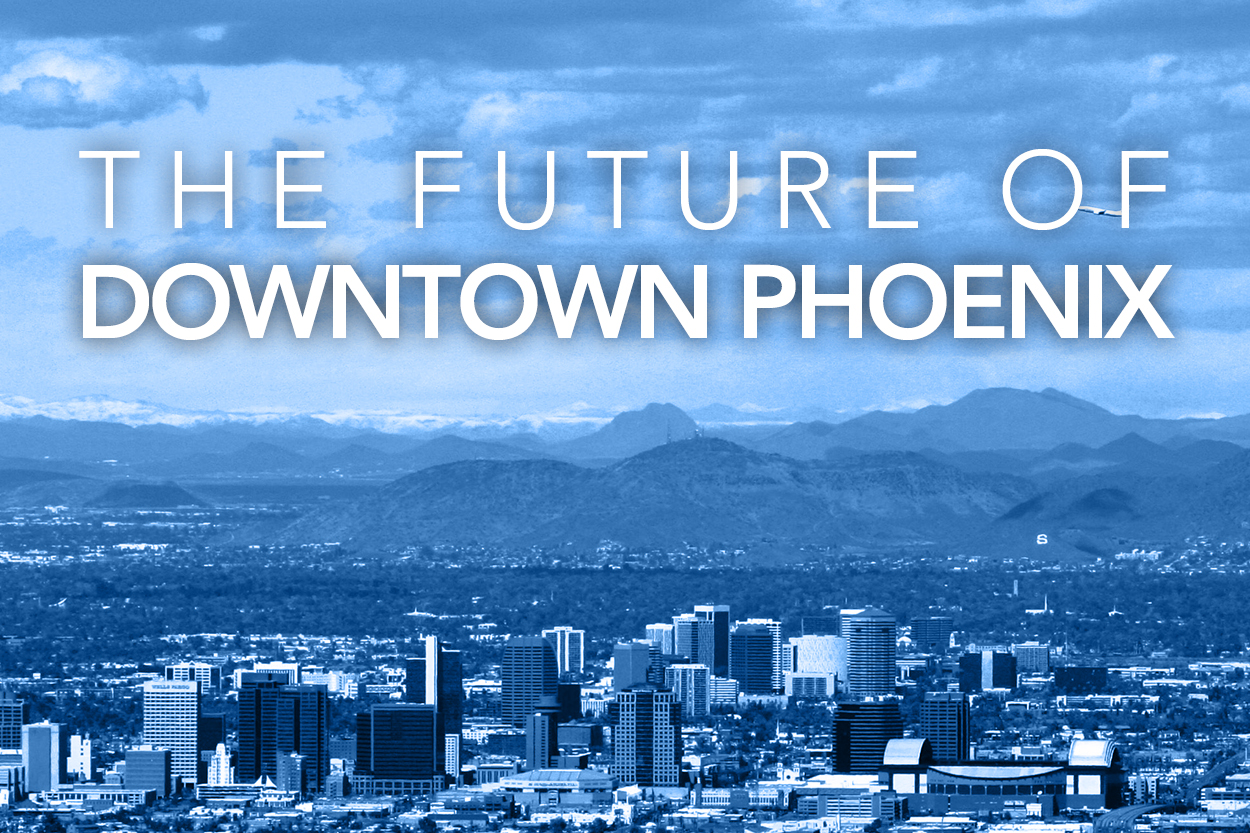 Registration is required. This program is only open to AGF members.
Arizona Grantmakers Forum members learned about the changing downtown Phoenix landscape and how philanthropy may play a role in its next incarnation. We heard from a panel of local leaders offered a vision of a thriving urban core and met with other AGF members to discuss project needs and opportunities.
Panelists included: Rhonda Bannard of PHX Commons LLC and Inspired Connections who is working to convert a former downtown restaurant into a community gathering spot; Duke Reiter, senior sustainability scientist at Arizona State University's Julie Ann Wrigley Global Institute of Sustainabilitywho led a study of the central Phoenix corridor; and Tim Sprague, who is chair of the Hance Park Conservancy.
Special thanks to our program sponsor Nina Mason Pulliam Charitable Trust!
PHX COMMONS PRESENTERS
Rhonda Bannard is a creative strategist with more than 30 years of expertise and 16 years in running her own company, Inspired Connections. Her career started in television news and then she jumped into the nonprofit arena where she worked with a variety of organizations including the Downtown Phoenix Partnership and Greater Phoenix Chamber of Commerce. Her consulting work includes a client roster of nonprofits, corporations and associations such as APS to AWEE, ABEC to Valley Leadership, the Arizona Town Hall, One-N-Ten, the Academy of Pediatrics – Arizona Chapter and many others. Her expertise is in  PR, marketing, communications, brand and content creation, strategic planning, fund development, speech and presentation coaching, community and collaborative partnerships, event/program development and board development. Rhonda is the visionary behind PHX Commons, a unique urban gathering place created to demonstrate how the community can showcase its unique talents and offerings to the millions who come downtown to live, work, innovate, study and play. Rhonda has served on a number of boards including the Alliance of Arizona Nonprofits and SARRC. She has also hosted her own monthly women's salon for more than 10 years.
Mark Howard is a serial entrepreneur with a passion for community, education and Arizona. Mark started his career in public education in Arizona and Colorado, then in the personal and professional development training arena including owning and selling his own sales training company. He ran organizational development for the world's largest IT reseller of hardware and software and owned his own advertising agency Lucky Dog. For the last 13 years, Mark has been ingrained in the food and beverage industry as owner of FEZ and Bliss/ReBAR, two current restaurants in the downtown area. He focuses his efforts on facility design, customer experience, brand identity, marketing and community engagement. Mark has devoted a great deal of time over the years to the community through a variety of nonprofit organizations including the Arizona Human Rights Fund, Body Positive/Southwest Center for HIV/AIDS, Human Rights Campaign, EQ Arizona, Arizona State Libraries Association, Maricopa County Library District, Phoenix Public Library Foundation, Phoenix Theatre, Actor's Theatre, Planned Parenthood, Chandler Nonprofit Coalition, ICAN, Anytown Arizona, One-N-Ten and others.
THE CENTRAL IDEA PRESENTER
Wellington "Duke" Reiter, FAIA, is senior advisor to the president of Arizona State University and is executive director of ASU's University City Exchange. Duke has played numerous roles: community leader, academic administrator, faculty member, architect, urban designer and public artist. He has established a track record of highly effective partnerships with public office holders, the business community, nonprofit groups, professional organizations, developers and universities. Central to his work is the construction of mutually-beneficial relationships between the institutions he has led and the cities in which they are located. Reiter is particularly interested in the economic, cultural and sustainable elements of metro areas and the engagement of top tier colleges and universities embedded within them.
Reiter was a kEy player in the creation of the award-winning ASU Downtown Phoenix Campus. He is the past president of the School of the Art Institute of Chicago, the former Dean of the College of Design at ASU and a long-time faculty member at MIT. He is the recipient of the Arizona Architect's medal and is a Fellow of the American Institute of Architects. He is presently a national Trustee of the Urban Land Institute and chair of ULI's University Development and Innovation Council.
HANCE PARK CONSERVANCY PRESENTERS
Timothy Sprague is an attorney by training and a lifelong entrepreneur with a broad portfolio of professional experience. He served as president of Warwick & Co., Inc., his family's private merchant and investment bank, and co-managed the formation of its cross-border acquisition fund with Mexico's development bank, Nacional Financiera, overseeing its Mexican manufacturing facilities. Timothy's real estate experience is driven by involvement in and creation of community with properties in Portland, Oregon and the Phoenix regional market. Currently, Timothy and his business partner of 35 years, John Hill, operate Habitat Metro, LLC, a development firm focused on infill multifamily and hospitality projects in the Phoenix metro market. Timothy continues as an active member of numerous civic and charitable boards, including the Roosevelt Action Association, Grand Avenue Merchants Association, the Episcopal Habitat Coalition of Phoenix and the Urban Land Institute. He currently serves as the president of the Hance Park Conservancy, which is partnering with the City of Phoenix to re-develop the 32.5-acre Hance Park in Downtown Phoenix and is a member of the Executive Committee for the Phoenix Community Alliance. He holds a bachelor's of science degree in Sociology from the University of Oklahoma and a Juris Doctorate from the University of Oklahoma College of Law.
Larry Lazarus has been a land use attorney instrumental in the planning and development of Phoenix, Arizona for over 40 years. He presently serves as chairman for the board of Banner Health, a $7.5 billion-dollar health care company with 27 hospitals in seven states. He served as chairman of Phoenix's Urban Form Direction, the first modern General Plan for the City of Phoenix. He is also past chairman of the Anti-Defamation League, Southwest Region, ASU College of Architecture Council for Design Excellence and Easterseals. He is listed in the publication, "The Best Lawyers in America" 2008-2017.
Resources
Hance Park Conservancy – Slides