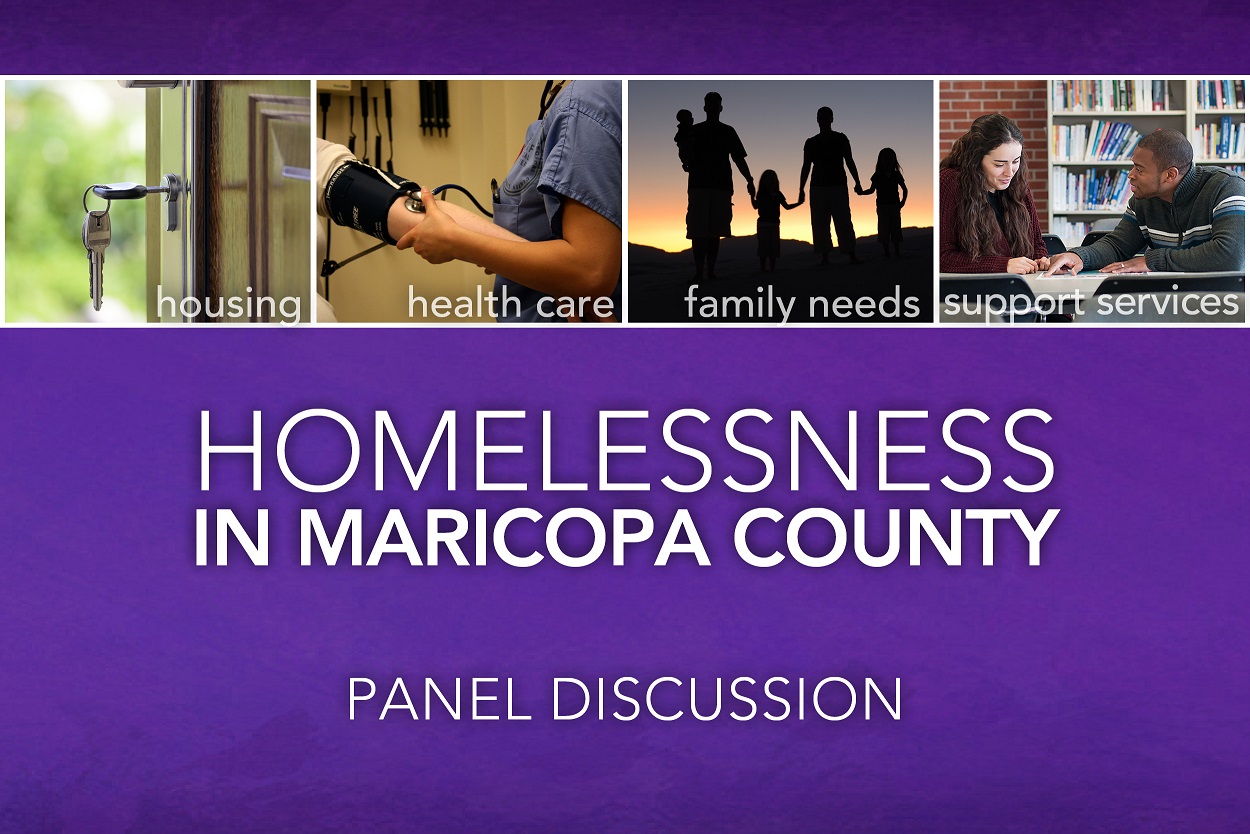 Registration is required. This program is only open to AGF members.
Arizona Grantmakers Forum members gathered to hear about the power of public-private partnerships to end homelessness in Maricopa County. Valley leaders including Amy Schwabenlender, vice president, community impact of the Valley of the Sun United Way, shared the successes of the collaborative, lessons learned and how working in collective impact requires a shift in mindset. Following the presentation, members participated in a Q&A and explore opportunities to support the collaborative's work.
Presenters
Bruce Liggett, Director, Maricopa Human Services Department
Bruce Liggett has decades of public and private experience in human services in Arizona.  He administered state programs for persons with developmental disabilities. Bruce managed agency policy and planning at the Arizona Department of Economic Security and coordinated the development of the Arizona's long-term care system.
He established the state Child Care Administration, was an early education advocate and later directed the private Child Care Association. As DES deputy director, he managed public assistance and employment programs, providing leadership for welfare reform implementation. As the director of the Maricopa County Human Services Department, Bruce oversees Head Start, Community Action, Senior Services, Workforce Development, Housing, and Homelessness programs.
Amy Schwabenlender, Vice President of Community  Impact, Valley of the Sun United Way
Amy Schwabenlender joined Valley of the Sun United Way in 2005. She oversees United Way's work to break the cycle of poverty for individuals and families in Maricopa County. She is responsible for a team that has goals for both support of direct service interventions and systems change. Amy earned her B.S. degree in business administration and communication from Trinity University in San Antonio, Texas, and her MBA from Marquette University in Milwaukee, Wisconsin.
She is a graduate of Valley Leadership and the American Express Leadership Academy at ASU Lodestar Center. She currently serves on the Maricopa Regional Continuum of Care Board, Housing Authority of Maricopa County Advisory Committee and Alliance of Arizona Nonprofits Board.
Michael Trailor, Director, Arizona Department of Economic Security
Michael Trailor was appointed by Gov. Doug Ducey in May 2017 as the Director of the Arizona Department of Economic Security. Prior to his appointment to DES, Michael served for eight years as the director of the Arizona Department of Housing, where he was originally appointed by Governor Janice K. Brewer in 2009, and re-appointed by Gov. Ducey in 2015.
Before entering into state government service, he served as principal and urban development specialist with Vanguard CityHome of Scottsdale. In that role, he developed multiple residential and retail projects. Prior to Vanguard CityHome, Michael was the Arizona president for Centex Homes where he was responsible for homebuilding and mortgage operations which produced more than 1,000 homes annually.
As director of the Arizona Department of Housing, Michael increased staff capacity and improved policies and procedures to repeat best practices. He worked diligently to understand and improve housing issues for Arizona's most vulnerable populations, targeted resources and joined with other community leaders to end homelessness, develop independent living opportunities for people with disabilities and create "location efficient," "service enriched" affordable housing strategies.
Michael brings a refreshing business approach to state government and is working with Gov. Ducey and other state agencies to implement the Arizona Management System throughout state government, creating one enterprise focused on making Arizona the best place to live, work and play.
Moderator: Marisue Garganta, Director of Community Health Integration and Community Benefit, Dignity Health
Marisue Garganta is currently the director of community health integration and community benefit at Dignity Health, St. Joseph's Hospital and Medical Center, Barrow Neurological Institute, St. Joseph's Westgate Hospital and the joint ventures within St. Joseph's Hospital and Medical Center's Network. St. Joseph's Hospital and Medical Center is the flagship hospital within Dignity Health and is a teaching, medical and research center in the heart, lung and neuro services in Phoenix, Arizona.
Marisue comes to her current position with more than 40 years of experience in health care, community health, education, international business and nonprofit management. Her work in the nonprofit community included serving as an executive director, fund development, educator, researcher, trainer, public speaker and leader in the community. She is a connector, collaborator and convener. She is known for mobilizing communities into action, which is demonstrated in organizing collaborative such as the Arizona Communities of Care Network where organizations come together to collectively impact the community through innovations in care.
Marisue serves as the co-project investigator for the CMS Accountable Health Community Model known as the 2MATCH Project (To Match and Align through Community Hubs). She is an advisory council member on the Association of Community Health Improvement with American Hospital Association and is a Health Research & Educational Trust Senior Fellow, where she also serves as faculty member on the LinCC collaborative with Robert Wood Johnson Foundation and other areas of improving the health of communities. She serves as an Emeritus Board Member for FSL and Catholic Charities Services, former member of the Maricopa County Association of Government's Continuum of Care Board, committee member for the Elder Care Board Committee for Catholic Health Association and is a member of the City of Phoenix Age-Friendly Communities Ad Hoc Committee. Marisue holds several leadership roles on state- and county-wide advisory boards and councils. She received community awards including the Golden Heart Award, Humanitarian Award, 2014 Kevin Keogh Community Service Award, the Spencer Foreman Award for Community Outreach and multiple community awards for her innovations and collaborations within the community. Her motto is "Your footprint is your mark on life, so tread gently. The world is fragile."
Resources
Homelessness in Maricopa County – Slides