What software/techniques are corporate funders using to simply/easily measure the impact of their investments?
Corporate grantmakers need and want to know if funds have been used appropriately and the value-add of their philanthropic investments. Organization feedback and data outlining a program's impact is essential to corporate marketing, sponsorship and future grantmaking.
Join this roundtable to explore what methods and software your colleagues are currently using (or are aware of) to process grant applications and to collect and report impact data from grantees. The floor is open to additional topics and ideas.
A special thanks to Salt River Project for sponsoring this affinity group!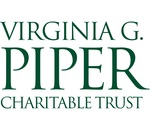 Registration is required. This program is only open to funders.