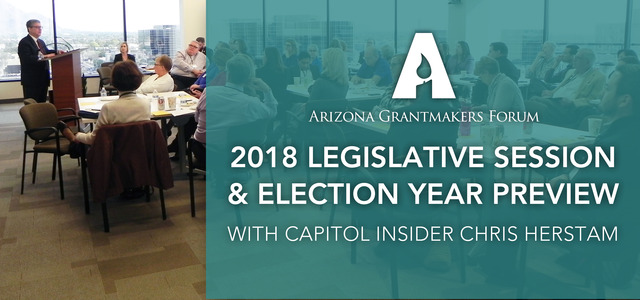 Registration is required.
Cost to Attend: Free for AGF Members
$39 for Non-Members

Spend your lunch hour with Arizona Grantmakers Forum and Capitol Insider Chris Herstam who will share the most up-to-date insights into what's at stake during Arizona's 2018 legislative session and election. Principal and chairman of government relations at Lewis Roca Rothgerber Christie and former state lawmaker, Herstam will provide a high-level look at pressing public policy issues, who the key players are and more.
Please Note: This program is only available live. Because Mr. Herstam will share his candid views, AGF honors his request not to video record his presentation.
About the Presenter
Chris Herstam, a principal of the firm Lewis Roca Rothgerber Christie, has been chairman of the government relations practice since 1996. He has been active at the Arizona State Capitol for more than 30 years and has served as a leader in the legislature, a gubernatorial chief of staff and as chair of the Arizona Board of Regents.
In addition, Mr. Herstam is a frequent guest appearing on local television and radio outlets to discuss public policy and political issues.
Refund Policy: Attendees can receive refunds up to one day before the event.